Agaete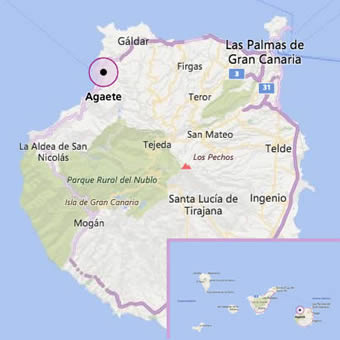 Agaete is located on the northwest coast of Gran Canaria. It is traditionally known for being a Canarian fishing village with a very popular seafood cuisine. Agaete is composed of three tourist attractions: the town of Agaete itself, Puerto de las Nieves and Agaete Valley, which is the only place in Europe where coffee is grown. The price of this handmade coffee is about 60 euros a Kilo and surprisingly few people know this exquisite limited production, which makes it even more exclusive. In the Valley of Agaete there are several plantations which you can visit and where you can taste wines and the precious coffee they grown by themselves. If you want to eat something in Puerto de las Nieves you can find restaurants where to eat the traditional local fish and you also can relax on the beaches and natural pools.
Other areas of Agaete
Within the municipality of Agaete there are other towns like El Risco where you can find some nudist beaches which are reached after a short walk and you can also visit the popular Charco Azul, which is a small lake formed by a waterfall; visit totally recommended. Another area to visit is the area of ​​Barranco de Guayedra, where there is a naturist beach which also is reached after a short hike. This beach is an alternative to the beaches of Agaete if you are looking for a little peace and relaxation. You can find other areas in the municipality of Agaete like Sao, Hornillo or Los Llanos. If you like hiking, in this area there are some routes with incredible views.
Clic here to see all the things yo can visit in Agaete.