North of Gran Canaria gastronomy
The gastronomy of the North of Gran Canaria is defined by its most representative products, each locality has a "star" product, here you have a list with all of them.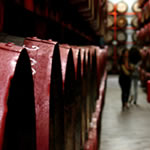 Arucas rum
The rum factory in Arucas is the largest and the oldest in Europe, and they organize guided tours with tastings of all its products. The most popular is the Ron Arehucas but also are well known Ron Honey and Rum Cream and Toffee, Coffee or Banana.