Gran Canaria gastronomy & typical dishes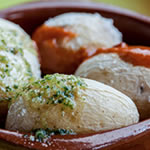 Papas arrugadas with mojo
Papas arrugadas con mojo (Small Potatoes Boiled in Their Jackets with Mojo sauce) are one of the best known dishes of the Canary Islands, to do it is used the beautiful potato that boils without peeling and adding a lot of salt, if possible sea salt. Once boiled removes the excess water left by a salt crust on the potato. In some places they continue to prepare it with sea water, as it was done in antiquity. It is always accompanied by red mojo or green mojo although the most characteristic is red that are usually spicy because of its content in pepper.